Monitor, manage and file your asbestos registers via the TRAC easy to use secure, web-based, Asbestos Database Portal.
Managing your on-line asbestos register and compliance:
The asbestos database portal is more than an on-line reporting platform. Using the database gives your organisation the ability to update its asbestos register easily on-line, make updates and file documentation such as air monitoring records, procedural documents and training certificates.
The Asbestos Database Portal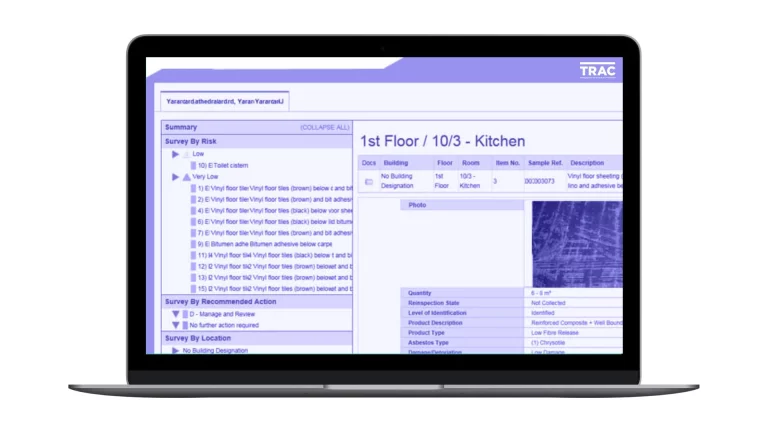 The portal provides key information relating to risk and compliance status whilst giving day to day progress with ongoing survey programmes. Users can download full reports and assessment data for each property or generate summary reports across multiple sites with the facility to download full survey reports as well as additional site documents stored on the portal.
You can also give approved contractors access to specific properties to aid maintenance, repair and redevelopment works.
Real-time reporting and review of survey projects is available at every stage, from scheduling to onsite work through to final report delivery.
The portal has interactive features to give easy access to assessment data from within an expandable hierarchy either on a building-by-building, floor-by-floor or room-by-room basis. Items are categorised by risk with photographs, site plans and every report can be downloaded in pdf. format.
If you would like to learn more about the portal, please contact us.
If you would like to learn more about the portal, please contact us.